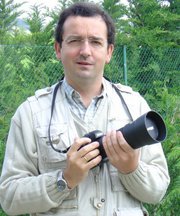 Koldo Badillo (Orduña, Basque Country, 1958) is professional image
since 1988 working as a lighting-camera TV.

Post pictures in travel magazines, has been awarded one hundred photographic competitions and has performed more than 20 exhibitions. It is a regular contributor to magazines and Pyrenees Euskalherria.

PortfolioNatural.com is a founding member. and currently holds the position of"Coordinator" of the collective.

In 2005 he published his first book author: "COLORS OF NAVARRE."
In 2011 published a book of collective NATURA PortfolioNatural.com.